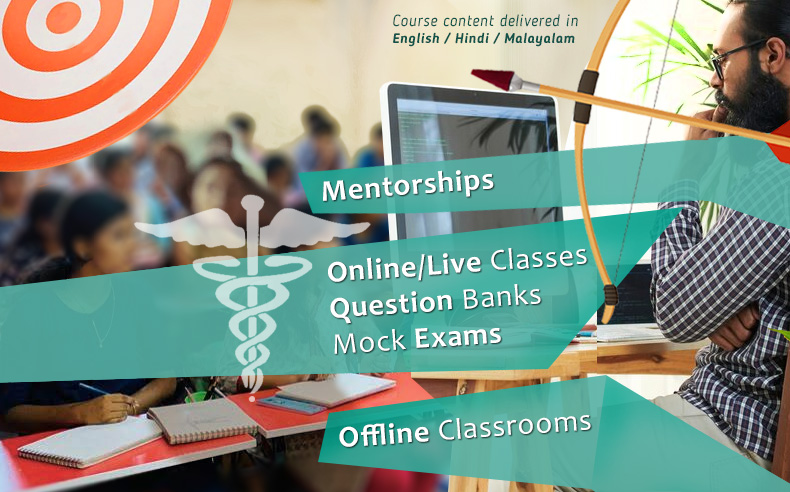 Testimonials
Why we are different
Dr Karthik KP
1st Rank Rank All India 2019
Personalized preparation strategies
"Recognising that each student is unique in their abilities and limitations, our teachers and mentors at Drona had given tailor-made preparation strategies for me and my peers. This helped us complement the knowledge back-up we had acquired from our colleges, to efficiently utilise time, and to improve on our weaknesses. The tips and mnemonics also helped us secure the informations without missing them out. These guidances were undoubtedly crucial in helping us excel."
Dr Aiswarya K
1st Rank Kerala / 3rd Rank All India
It's Not any seat but desired PG
"Drona's classes motivated my mind to aim and hardwork for my desired PG. A year is not a loss considering the Career adcance in my desired PG"
Dr Jassim Rahiman
AIR-6, 2020 AIAPGET
Reading of samhita on a MCQ approach; self made codes/ mneumonics
"Through reading of samhita got me into the desired rank and seat. Dronas guidance, Coaching notes and Pattern changing exams helped me a lot for gaining adequate knowledge and how to focus on certain topics while reading samhita, which topic should be focused from most important to least important and with the help of Dronas codes/mneumonics got the unique style and ability to make codes by self, which is necessary for recollecting and memorising the whole syllabus of BAMS."
9th Rank Kerala
It is possible to get PG even with a busy family life
"It was never easy to continue my studies due to busy family life. The motivational classes, fun-filled atmosphere and personal care provided by our dedicated Sirs made me to full-fill my passion.."
2nd Rank Kerala / 7th Rank All India
Notes.. My biggest Asset...
"Self prepared note with prompt guidance, code book, confusion book etc along with other special unique techniques for this year's PG exam was very much effective. Each class starting with an exam helped me a lot to check my knowledge status in every subject. Though I had a strong base from college, one year training made it stronger and brought me a desired top rank."
24th Rank Kerala
One year tension free coaching was amazing "I was always worried about the X-factor (tension) with always restricts the best out of us. A good number of online exams in the classes even through mobiles with the same pattern of AIAPGET helped me a lot to overcome the unexpected technical problems during final exam."
8th Rank Kerala
A complete study brought me the deserved top rank
"All competitive exams will be having 15 to 20 unexpected questions. A complete detailed and vast study strategy by our institute have made me to sit on a deserved top most rank."
20th Rank Kerala
Do you want individual attention and get corrected always?
"Sometimes we cant identity what pushes us back in our studies even after doing handwork. The special attention providing to a fresher like me regarding the selection of studying, in sir's words.. 'Ghalae kapothanyaaya' made me achieve this goal. A prompt correction in my study technique at the apt time was the best help I got from my teachers."