New DRONA test series for UPSC 2020
New DRONA test series for UPSC 2020
New DRONA test series for UPSC 2020

COURSE DETAILS
Course name - New DRONA test series for UPSC 2020
Course aims for - UPSC Medical Officer 2020
Mode of course - online exams
Medium of course - English (only)


Why Drona Online PG course?
» If you are planning for a central government job with good salary
» If you want a perfect revision of the subject before the actual exam
» If you want to know your position nationwide
» If you want the best training in the Ayurveda field
Our Highlights
» Pioneer in online training for different Ayurveda entrance examinations
» An experience of online courses conducted for students from more than 10 states of India and 15 countries in the world.
» Special UPSC exam oriented questions
» Time tested and result oriented timetable
» Every exam will be strictly under the supervision
» Rank list after each exam so that you can know your position and improve your studies.
» Assessment of your studies on individual basis
» Individual support for improving the studies
» Doubt clearance for each candidate at any time through emails
» Expert faculties in all the subjects
» Special Whatsapp groups and discussions
» Drona Nectar study materials for the subjects given in timetable (on request)
» Audios and videos with codes and study tips (on request)
Mobile App
» Daily exams for self training
» Unlimited exams
» Free for the UPSC course students
» Topic wise divided exams for every subjects
» Previous year UPSC MO exams
» Chapter wise exams for samhitas
Our previous results
» All India first rank in 2019 PG entrance exam
» 5 out of first 10 All India ranks
» An experience of 14 years in coaching
»
Click here
for our detailed year wise achievements
Details of Online examination
All registered candidates will be given a user id and password, using which they can login to online test page in our website. The candidate can attend the active exam only for one time.
The online examinations will be active for 24 hours
» Online exams can be written using your mobile, laptop, tablet, computer or any such device with good internet connectivity.
Registration started
Fees - Rs. 2000
Schedule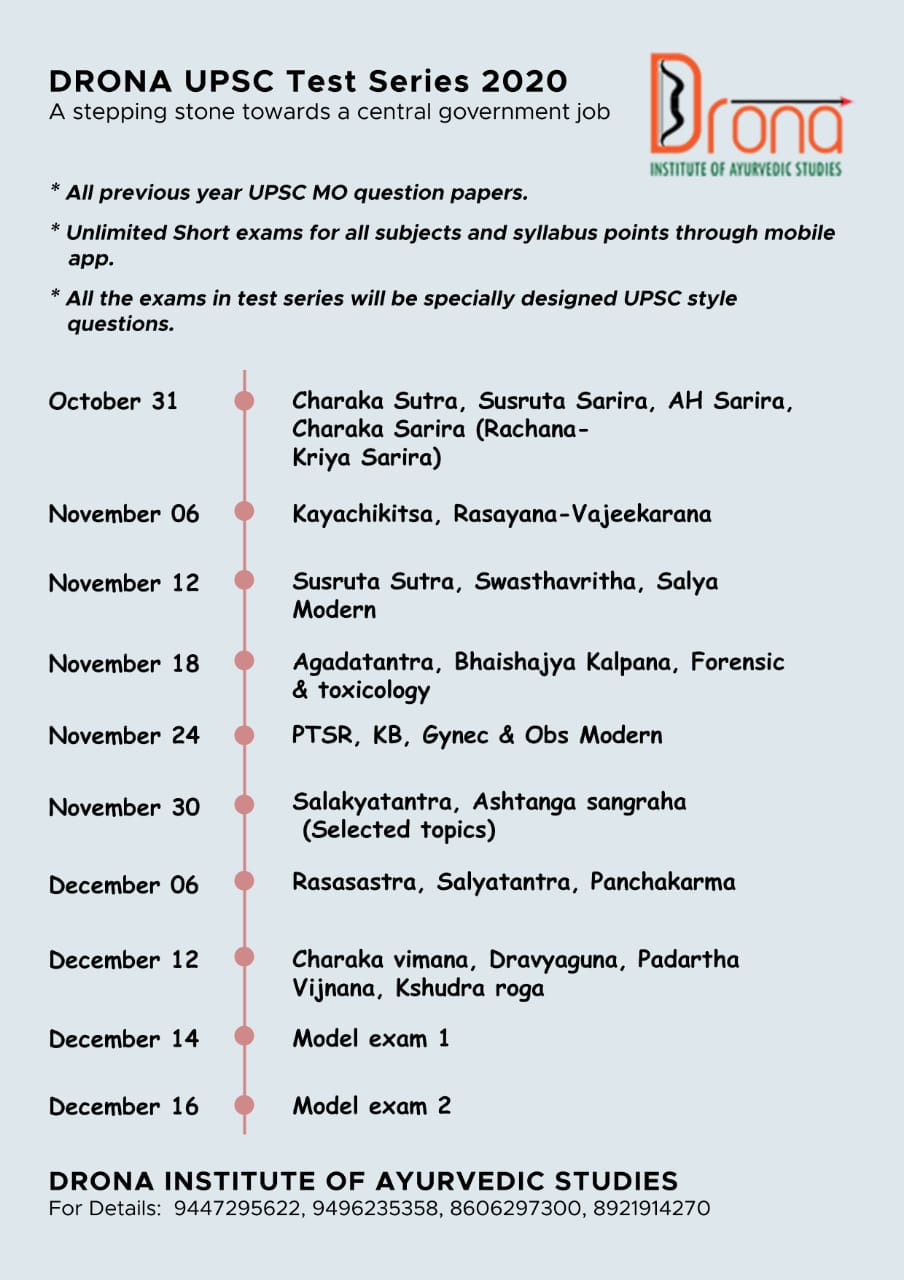 The course time, examinations, schedule etc. are subjective to changes. All the changes or modifications regarding the course will be displayed in website.
The course will be ending as per the schedule given.
Registration
How to do Registration?
» Do the payment through the link given below (Link open from 4th March 2020)
» Take a screenshot of the bank receipt or save it
» Come back to the website » UPSC Course page; and continue registration.
» Fill the digital application form, attach the bank receipt and a passport size photo and submit
» Select your class type -
Online
» Select your batch -
Test series UPSC 2020
How to do Payment?
»
Click here for our terms and conditions before payment »
»
Click here for Payment link »
» Click on the link above and follow instructions.
» Select Payment Category -
Online UPSC Course
» For payment you can use net banking, mobile banking, ATM card, Debit card, credit card etc. If it is not possible, please click on other payment modes, click on SBI branch and download the receipt and go to your nearest SBI branch and do payment by cash.
For enquiry
Phone:
Phone: +91-6282278749, +91-9061374929, +91-8606297300, +91-8921914270
,
Email:
mail@dronaayurveda.com